It is essential that you choose your therapist with the utmost care as you are entrusting them with a great responsibility – to help you CHANGE. Their depth of experience and their proven success rate is of prime importance as is their reputation in the community.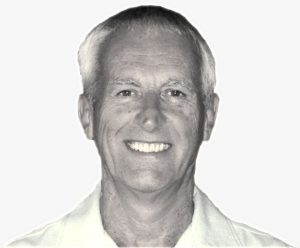 Background
Den Clare has been a resident of the Isle of Wight since 1960, originating from Aldershot in Hampshire.
His first career was in Banking and he then served as a Police Constable in the Hampshire & Isle of Wight Constabulary. He served for a while on the former Sandown-Shanklin Urban District Council in 1970 and on the committee of the local Business Association for some years.  He was also a Cub Scout Leader in Shanklin.
Training
Whilst not medically qualified Den has studied complementary medicines since the age of 15 and has been a registered healer with the National Federation of Healers since 1976. He is the sole practitioner of the Hypnotherapy Consultancy
Den's Hypnotherapy training started in 1968 and is still ongoing.  He is a Certified Master Hypnotist (C.M.H.) and Certified Hypnotherapist (C.Hyp) through the Scarborough School in England, where he trained with the late Wilf Proudfoot in October 1985.
Intensive training followed in 1987 with the late Gil Boyne at the Hypnotist Training Institute of Los Angeles, California. He is also fully registered to practice in the states of California and Florida, U.S.A. where he frequently attends seminars, conferences and further instruction.
Also in England, Den is a full member of the National Council of Psychotherapists (M.N.C.P).  Counselling Courses at Guildford University have helped further his understanding of human behaviour.  Den is a fully qualified LOUISE HAY course teacher.
Den is also a full member of:-
The Institute for Complementary Medicine
The UK Training College of Hypnotherapy and Counselling
The International Stress Management Association
Full member of the British Hypnotherapy Association's National Register since July 1999
The International Association of Counsellors and Therapists U.S.A.
The National Guild of Hypnotists U.S.A. November 1988 with Dr. Dwight F. Damon
Accredited member National Register of Psychotherapists and Counsellors
Master Hypnotherapist U.K.Guild of Hypnotist Examiners
Full member National Council for Hypnotherapy M.N.C.H. (Reg)
Full Member of the Hypnotherapy Association since May 2001
Diploma Holder awarded July 2013
Registered with Complementary Natural Healthcare Council C.N.H.C.
Accredited member Association for Professional Hypnosis and Psychotherapy M.A.P.H.P. (Acc.)
Member British Register of Complementary Practitioners June 1990
Member N.H.S. directory of Complementary Practitioners
Practitioner member of Anxiety U.K.
Referred practitoner for Health Shield Insurance
Senior Qualification in Hypnotherapy Practice S.Q.H.P. with the Hypnotherapy Register
Certified by the General Hypnotherapy Register G.H.R. May 2014
Certified Cognitive Behavioural Hypnotherapist with Adam Eason school
Certified Cognitive Behavioural Coach with Minnesota Institute – Devin Hastings
Basic Ericksonian Hypnotist with American Alliance of Hypnotists
Past Life Regression Hypnotist
Certified Life Coach American Union of NLP
NLP Practitioner American Union of NLP
Den holds BUPA provider no. 30012581 and complies with Continuing Professional Development (C.P.D.)
Recent qualifications have been added with Dr. Steve Jones of the American Alliance of Hypnotists for Basic Ericksonian Therapy, NLP Practitioner, Past Life Regression Work and Life Coaching
Den has also become a Certified Cognitive Behavioural Hypnotherapist through the Adam Eason School of Therapeutic Hypnosis
Testimonials
It is absolutely essential that your therapist is fully trained and experienced in their field.  Ask questions!  How many years have they practised?  Are they known to your G.P.?  Where did they train?
Hundreds of original testimonials from satisfied clients are available for inspection at Den's Consultancy.
The Weekly Post reporter who visited Den to write a feature on slimming with hypnosis stated in her article on Friday, May 15th 1981:
"The Hypnotherapy had an amazing effect on my life . . . . . .  and it worked". In a further article which appeared on March 2nd, 1984 the success of the reporter in stopping smoking was detailed.
A full page article about Mr. Clare appeared in the Isle of Wight Clarion on 13th September 1985 and he has written several articles for the Islander Magazine.
Den was featured in a full length article entitled "A visit to the Office of Den Clare in England" in the American Journal of Hypnotherapy in December 1993.
The article "Den Clare: man of spirit" appeared in Island Life magazine in 2015, and is an overview of Den's remarkable life and work. 
Private Consultation
Den is also available for private consultation by the hour and has worked with leading rock stars, actors and a famous musician in California, adventurers, politicians, sports people, Police, Vicars, nurses, Prison Officers and, of course, thousands of the general public!
Den still finds after many thousands of hypnotic sessions that each one is new and different and considers himself fortunate to be involved in this work.  Hypnotherapists may come and go, there is only one who has advertised weekly on the Isle of Wight, throughout the year, non stop since 1980… Den Clare!
Disclaimer:
The contents of this site are for informational and educational purposes only. Nothing found on my website is intended to be a substitute for professional psychological, psychiatric or medical advice, diagnosis, or treatment. Always seek the advice of your physician or qualified mental health provider with any questions you may have regarding a medical condition or mental disorder. Never disregard professional medical advice or delay in seeking it because of something you have read on my site. No warranties, either express or implied, are made on the information I provide. Your health and wellbeing are my only concern.